Building a consistent yoga routine can be difficult. Ultimately, it relies on a few different things.
One of the best ways to ensure you make a habit of practicing your postures and building strength is to purchase some good quality gear.
Buying specialist yoga clothes will not only make your practice easier and more comfortable, but they'll also have a psychological impact too.
If you know you've got gear that you love and allows you to practice yoga effectively, you're more likely to get excited about your sessions.
And when it comes to yoga clothes, a good pair of men's yoga pants is a key staple in any yogi's wardrobe. That's why in this article, we'll be explaining all about:
The Importance Of Picking The Right Yoga Pants
How To Spot A Great Pair Of Yoga Pants
The 8 Best Yoga Pants For Men
Let's dive into it.
The Importance Of Picking The Right Yoga Pants
Yoga pants aren't the same as your standard everyday pair of slacks. When you're stretching your body and holding ambitious poses, you need clothing that's going to support you all the way.
That's why it's important to pick up some yoga pants that are designed to be breathable, moisture-wicking, and capable of stretching and flowing with you.
Some people may prefer leggings and tighter pants, while others will opt for something a little looser. Either is fine, but whatever your preference, there are a few things you'll want to bear in mind.
Firstly, size is obviously super important.
Like most activewear,
yoga pants will stretch over time,
so avoid the temptation to size up and instead anticipate a little bit of loosening as you use them.
You'll also want to think about the conditions in which you'll be practicing yoga.
If it's usually quite warm when you step onto the mat, it's extra important that your gear is breathable, lightweight, and able to withstand heat.
You might also want to choose shorter Capri pants rather than long leggings.
During winter, full-length pants are probably your best bet. And material is crucial too — cotton pants are usually warmer, and they'll help you avoid pilling (the small fibrous pills that happen after washing). Synthetic fabrics are best if breathability is your top priority.
Thinking about how much stretchiness you need is also important (cotton pants tend to be more stretchy). Trying on a pair of pants before buying them is the ideal way to test this.
As you can see, there are plenty of things to bear in mind when you're shopping around to find the best men's yoga pants. Therefore, it can be tricky knowing when you've picked up a real find…
How To Spot A Great Pair Of Yoga Pants
Having explored the importance of wearing proper gear while practicing yoga, you might be wondering how exactly you're supposed to pick out the right clothes for your needs.
Ultimately, different people will want different things, so there's no right or wrong when it comes to looking for pants. However, you'll want to focus on a few key features:
#1. Material
We've already touched on the importance of the cotton vs synthetic fabric toss-up. There are all sorts of material blends out there, so it's worth familiarizing yourself with the pros and cons of each one and lining it up with your needs.
#2. Thick Or Thin?
If you plan on keeping to a tight, regular exercise plan, go for thin pants that will wick moisture away quickly and help you breathe. If you want something more versatile that you can wear out and about, opt for thick pants.
#3. Look For A Gusset
Gussets can make a big difference to your overall comfort and stability levels. Finding pants with a gusset can reduce pressure on your groin and provide comfort in the long-term.
#4. Pockets Or No Pockets?
Ask yourself whether you need some areas for storage in your yoga pants. If you want to get active outdoors, having pockets can be a plus, although carrying loads of items can get in the way of your practice.
#5. Research The Brand
More and more people are concerned with buying ethically-made clothing. If this is a particular bugbear for you, make sure you do your research on clothing manufacturers. Find out where the pants are made, where materials come from, and how workers are treated.
Taking time to consider these key factors will help you pick out yoga gear that fits properly, aligns with your values, and provides the comfort you need.
Now, let's move on to our list of the 10 best yoga pants for men.
The 8 Best Yoga Pants For Men
There are some great garments out there for anyone looking to take their yoga practice up to the next level. Whether you've got a big budget or you're looking to grab a bargain, there should be something here for you.
– Versatile sports pant
– Tight fit for ease of movement
Adidas are a trusted brand when it comes to delivering good sports gear, and the same can be said when it comes to their yoga range. These training pants are breathable and moisture-absorbing, with an extra bit of stretch to them, too.
Their clingy fit means they won't get in the way while you're moving around your yoga mat, although some shoppers find this fit is a little too tight.
Check them out here.
– Great value
– Comfy elastic waist
If you're after quality, this pair of Gafeng pants are a great bet. Like all Capri pants, they're not full length, giving your legs a little more room to move about.
They've got a loose, comfy fit, although they might be a bit too baggy for some people, with the danger of getting in the way during certain poses. Either way, they're affordable and available on Amazon.
– Stretchy
– Large pockets
Another loose, roomy option, these sweatpants are made of a cotton blend and include large pockets, so they're great for when you're on the go and need to carry some small items.
They've also got a great stretch on them, although some shoppers complain that the inseam is a little too long. You can grab them on Amazon.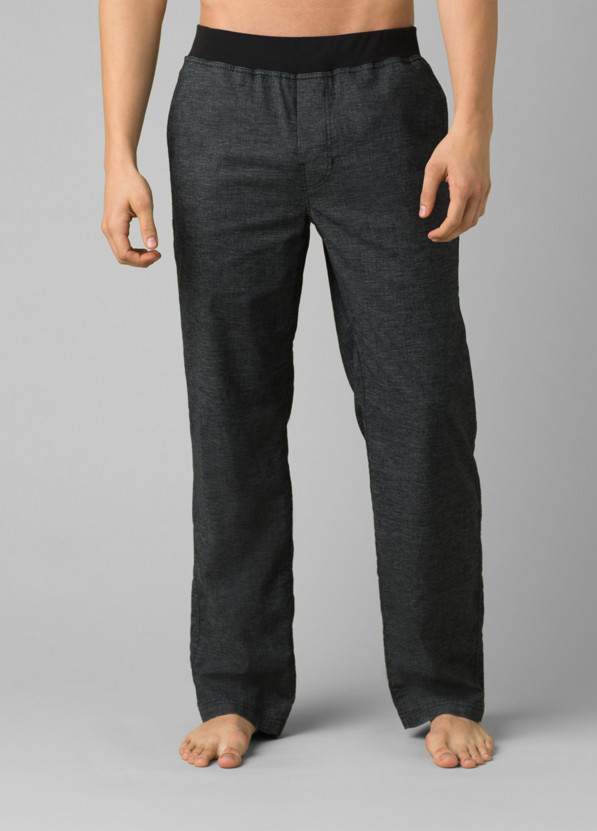 – Hemp/synthetic blend
– Comfortable fit
Part of Prana's Hemp range, these men's yoga pants use a soft, comfy fiber blend and built-in UPF protection, meaning they're great for those moments when you want to stretch outdoors and reconnect with nature.
They're comfortable and stretchy, with a knit elastic waistband and eco-friendly material. Check them out on Amazon.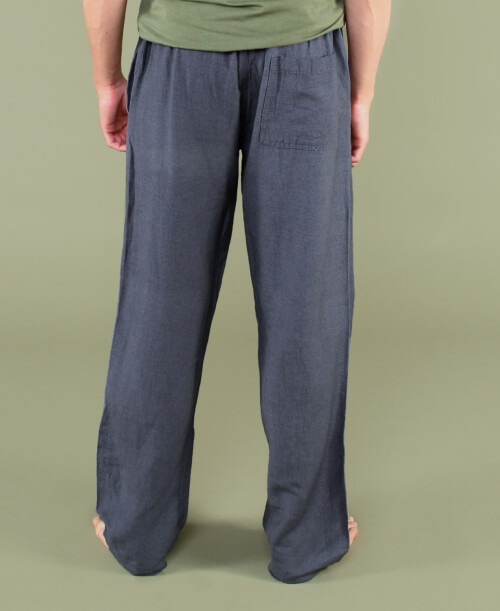 – Ethically sourced
– Breathable material
If you're passionate about looking after the environment and only putting your money towards ethically-manufactured clothes, these eco-friendly pants might just be the pair for you.
Made in Nepal from hemp, with no synthetic materials involved in the process, these are arguably the best men's yoga pants for nature lovers. Check them out here.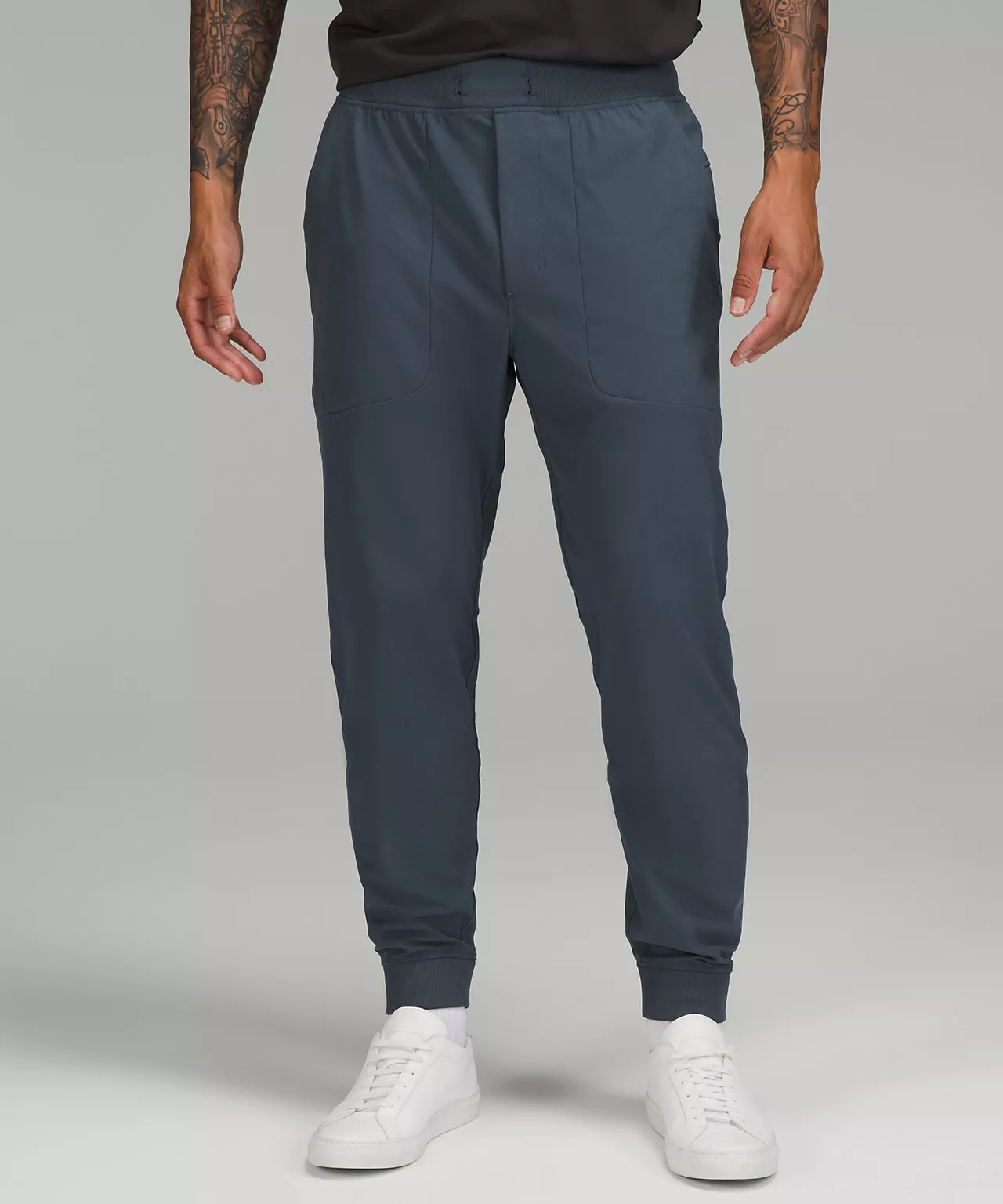 – Lightweight
– Expensive
Lululemon are a high-quality brand with a trusted reputation within the world of yoga. If you've got a large budget and you're willing to make a bigger investment in your bottoms, this pair could be ideal.
They're made from stretchy, technical, travel-friendly fabric, which means they're not just suited to being on the mat — they're highly flexible pants that you can wear for a variety of activities. Check them out on Amazon.
– Reinforced gusset
– Strong material
These men's leggings are tighter than lots of the pants on this list, but their ergonomic design and active dry fabric means they're still super comfy. They're also super efficient when it comes to moving moisture away from the skin.
With 2 handy side pockets for stashing small essentials, and a gusseted crotch for added reinforcement and mobility, these pants are a highly practical option.
– Stretchy fabric blend
– Reinforced and padded
Made of a synthetic blend of nylon and spandex, these are up there with the best men's yoga pants when it comes to guaranteeing stretchiness and flexibility.
A full gusset and double inseam panel help these pants move with you and provide comfort and stability while you stretch.
The Alo Yoga Warrior Compression pants are up on Amazon.
Take Your Yoga Practice To The Next Level
The amount of men practicing yoga on a regular basis is on the rise, and that's not going to change anytime soon.
Why not match your growing love of mindful movement with the perfect clothing for this activity? After all, only when you've dressed appropriately can you really access all the amazing benefits of yoga.
The best men's yoga pants offer stability, comfort, flexibility, and practical advantages. Hopefully, you've found something in this article that suits you.
What's next in the world of yoga. . ?
If you're still getting up to speed with the fundamentals of yoga, you might be interested in our article on why yoga teachers encourage you to practice belly breathing.
And if you're a little unclear on how regularly you should be practicing, check out our guide to how often to do yoga.