Yoga is an activity that many men have been slow to get on board with. In fact, it's estimated that over 70% of yoga practitioners are women.
But the amazing benefits of yoga (which include improved sleep, reduced stress, and lower blood pressure and heart rate) are available to both men and women.
And the good thing is that yoga is become increasingly popular amongst men, with the number of men doing yoga almost doubling between 2012 and 2016 (the latest stats available).
Now, all those new yogis can't be expected to simply practice in sports tracksuits and ordinary loungewear. That's why we've compiled a guide to some of the best men's yoga clothes.
In this article, we'll be focusing on these key topics:
What Do Men Wear To Yoga?
Why Getting Good Men's Yoga Clothes Matters
The Best Men's Tops For Yoga
The Best Men's Bottoms For Yoga
The Best Men's Yoga Accessories
Choosing the right gear for you is crucial if you're going to reap the rewards of a healthy yoga practice. Let's get started.
What Do Men Wear To Yoga?
There's no shortage of online guidance on what women should wear when they practice yoga. But what do men wear to yoga?
If you're a guy getting geared up for your first yoga sessions, it can be difficult to know what you should be wearing.
There are a few key things you should look for in your yoga clothes:
In order to twist, stretch, and bend in all the ways you're required to in yoga, you'll want to tick these four boxes.
And when it comes to material, you're probably best off choosing synthetics instead of cotton.
Yes, cotton is super comfortable. But synthetic materials are five times more breathable and roughly 60% lighter.
They also whisk moisture away from your body, rather than trapping it in, and they're easy to wash, too.
This means synthetic materials are usually a better choice for yoga lovers, particularly if they're practicing in warmer climates.
That being said, this is ultimately down to the individual. Some people will wear cotton T-shirts, while others will wear tighter synthetics, or even go shirtless.
There are some needs that you should make sure your clothing fits, however. Let's explore why it's so important to get good men's yoga clothes.
Why Getting Good Men's Yoga Clothes Matters
Yoga is a highly personal experience, so picking out clothes you feel comfortable in is vital.
Not only do you want to ensure sustaining comfort, durability, and an appropriate material, you also want to make sure it doesn't break the bank. While quality yoga clothes are a good investment, it's still worth searching for value. After all, who doesn't love a bargain?
Due to the fact that yoga practice encourages your body to move in different ways, it's important that you wear clothes built for adjusting to contours and ensuring comfort.
That's why it's sensible to avoid ordinary clothes with more broad purposes. Try and go for gear that's built specifically for exercising.
Getting the right fit is also crucial. Loose-fitting clothes aren't ideal, because they can slip and slide around your body and end up getting in the way.
This is a prime example of why purchasing quality men's yoga clothes matters — it will make your practice noticeably easier and more comfortable.
Okay, enough chat. Let's get down to our list of the best men's yoga clothes, starting off with some of the hottest tops on the market.
The Best Men's Tops For Yoga
It's super important to make sure you're wearing an appropriate top that allows you to breathe and doesn't get in the way of your stretches. Let's explore some of the best.
– Lightweight
– Great for mobility
Made of 100% polyester, this vest top is built to be smooth, lightweight, and fast-drying.
Its dropped armholes allow for extra mobility and a greater range of motion. Some people might prefer to have sleeves on their top, but if you'd rather have your arms free, this is a great bet.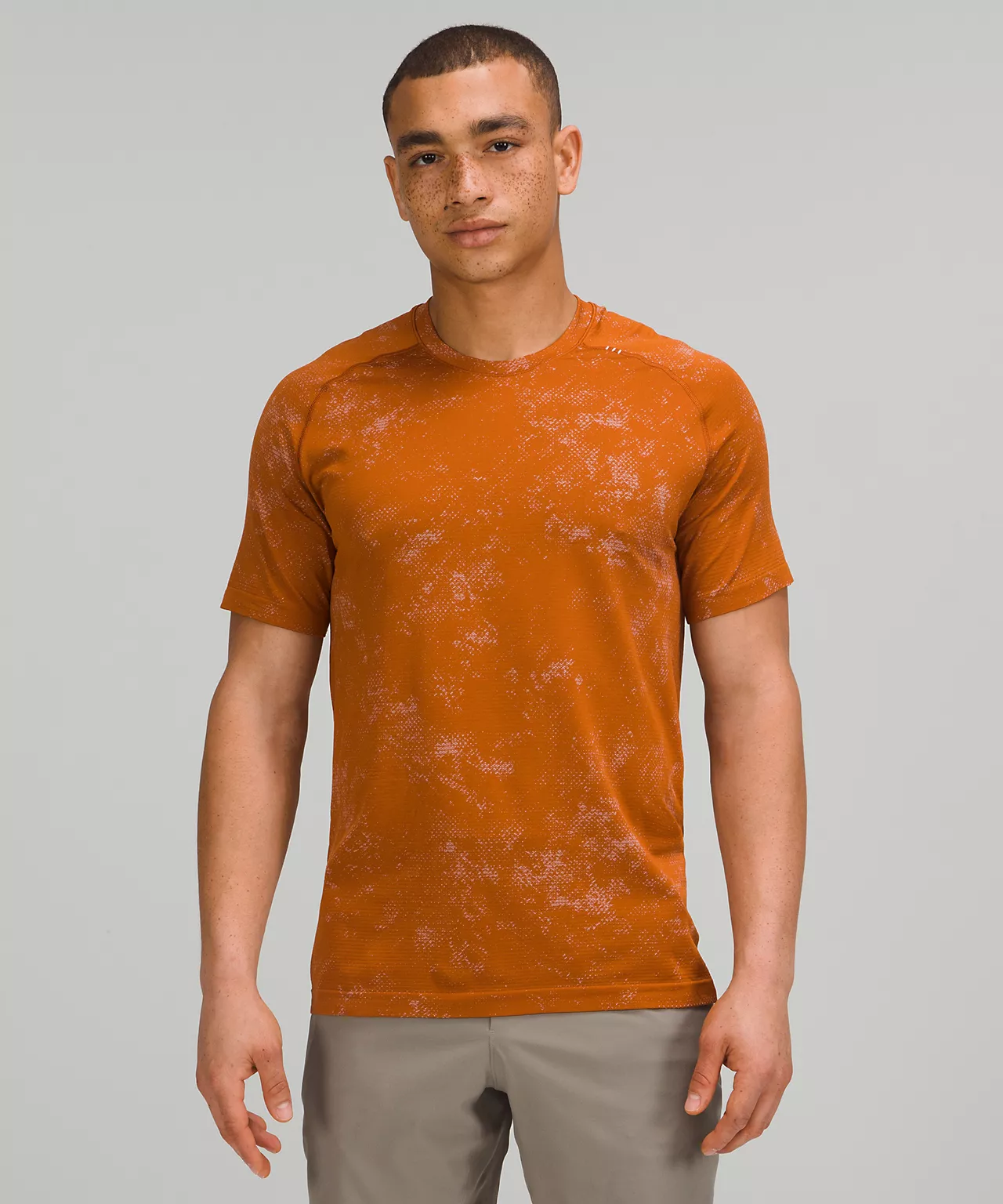 – High-quality material
– Silverescent technology reduces sweat build-up
Lululemon are one of the most trustworthy and high-quality brands around when it comes to yoga clothing.
Their Vent Tech top is highly breathable and built with anti-odor technology. Marketed as the ultimate training gear, its streamlined fit makes yoga poses that little bit easier.
As with much Lululemon gear, it's at the higher end of the price spectrum – but you get what you pay for.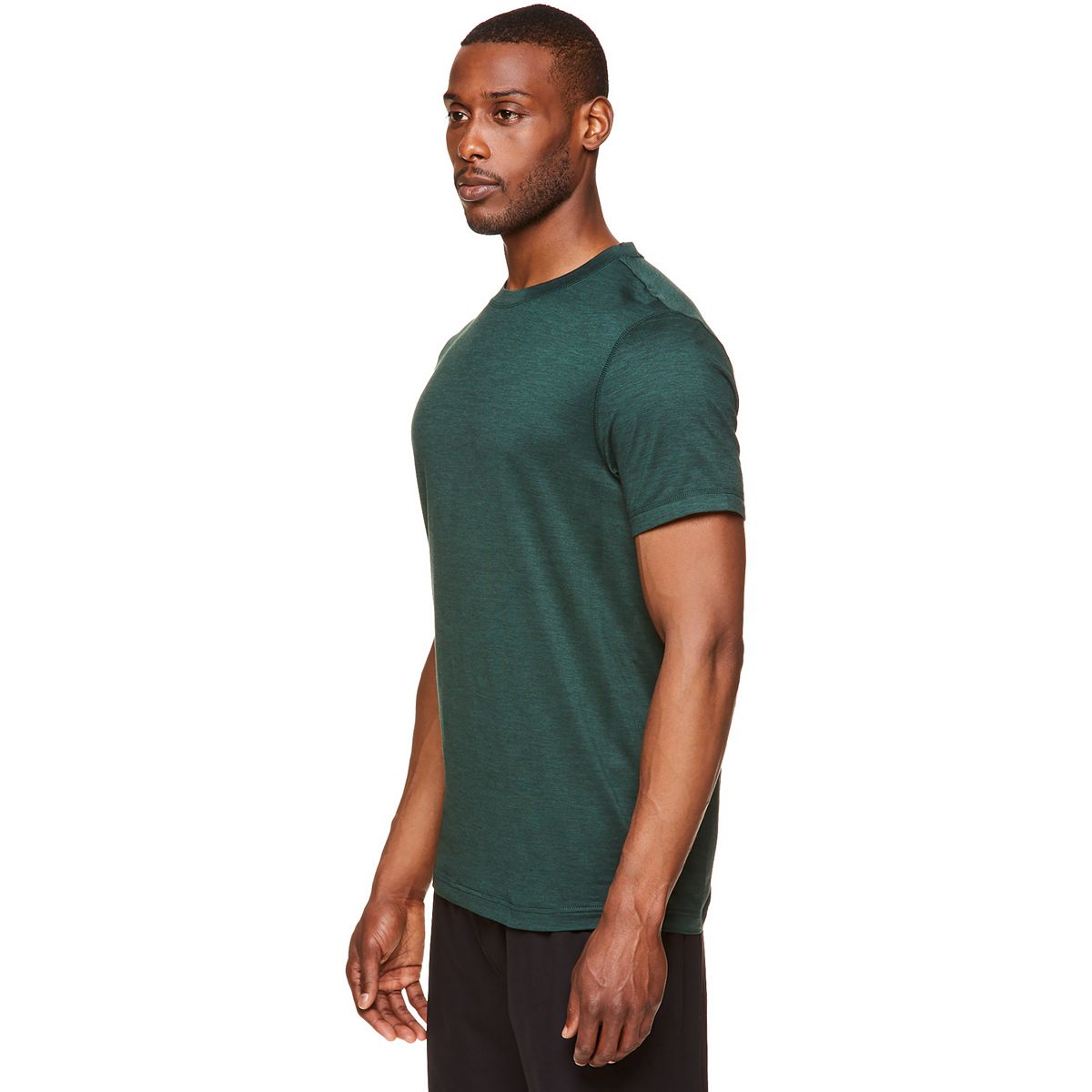 – Strong and durable
– Great value
Designed to aid athletic performance in all sorts of workouts, this Gaiam top's moisture-wicking material can handle even the most hardcore yoga sessions.
At under $30, it's a really affordable tee.
– Budget option
– Versatile
If you're after a much more budget option, Neleus could have the product for you.
Their Dry Fit Mesh Athletic shirts come in a range of colors and sizes, and their light polyester material is perfect for a variety of workout types.
Whilst not the highest quality yoga top out there, if you don't have much cash to play with, it's a good safe staple, with prices starting at around $12.
The Best Men's Bottoms For Yoga
Different people want different things when it comes to clothing their bottom half.
For some, the mobility provided by shorts makes them perfect, whereas other people will want longer trousers or leggings. We'll cover some examples of both in this section.
– Stretchy material
– Comfortable
Those who are practicing in warmer conditions are more likely to go for shorts, and there are plenty of great options on the market.
These Alo Yoga shorts are at the top of many people's lists. Made up of a nylon and spandex blend with a drawstring closure, they're stretchy and flexible.
Plus, at under $50, they're a solid investment. You can check them out here.
– Higher price point
– Super practical with various pockets
This pair of shorts represent a super comfy option for anyone who wants something a little looser.
With 2 front side pockets and a hidden zippered security pocket, they're perfect if you're planning on retreating to nature and doing some yoga in a park or other green space.
These shorts are available on Amazon for $78, so they're best suited to people who are prepared to spend a fair bit of money on quality.
– Affordable
– Specialist yoga brand
Manduka shorts are ultralight and stretchy, a little baggier than some other options but guaranteed to be comfortable and lightweight.
The Performance Yoga Shorts are super affordable, with prices on Amazon starting at around $20.
– Trusted brand
– Stylish look
In recent years, Nike has branched out from their traditional sports offerings to satisfy the needs of yogis too.
Their Flex Yoga Shorts are comfy, durable, and fashionable. You can grab them here.
– Strong material with reinforced crotch area
– Super practical
It's only right that we include some pairs of pants in this list, particularly for those of us who live in slightly colder climates.
They've got 2 handy side pockets for stashing small essentials, as well as a gusseted crotch for added reinforcement and mobility.
The Willit Active Yoga Pants are available on Amazon.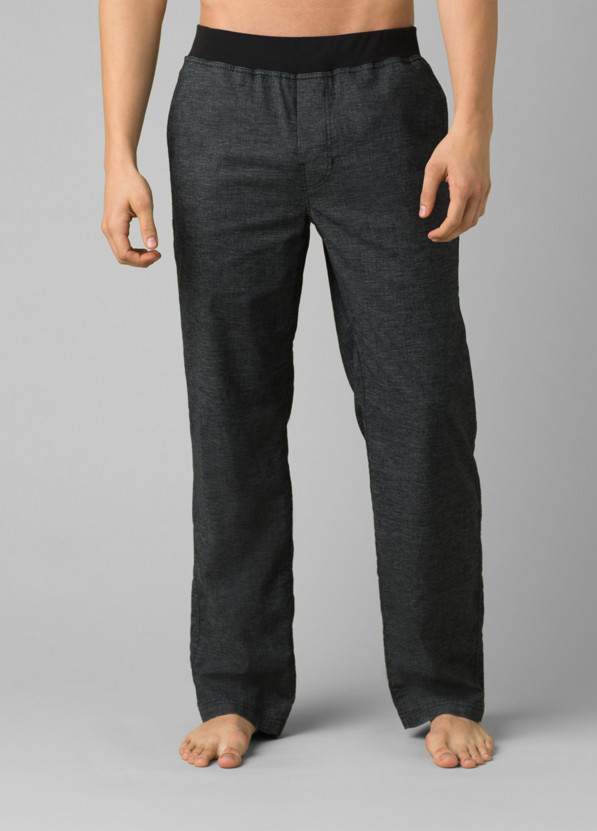 – Loose, comfy fit
– Breathable technology
If you want something a little looser-fitting that retains comfort, the prAna Vaha pants are a great way to go.
These pants combine the comfort you expect to get from loungewear with the breathability and lightweight feel needed during all sorts of yoga sessions.
If you're all about a relaxed approach to yoga, they could be the ideal bottoms for you. Check them out here.
The Best Men's Yoga Accessories
These little extras aren't quite as essential, but it's definitely worth having a browse through some of the great accessories designed to improve your yoga experience.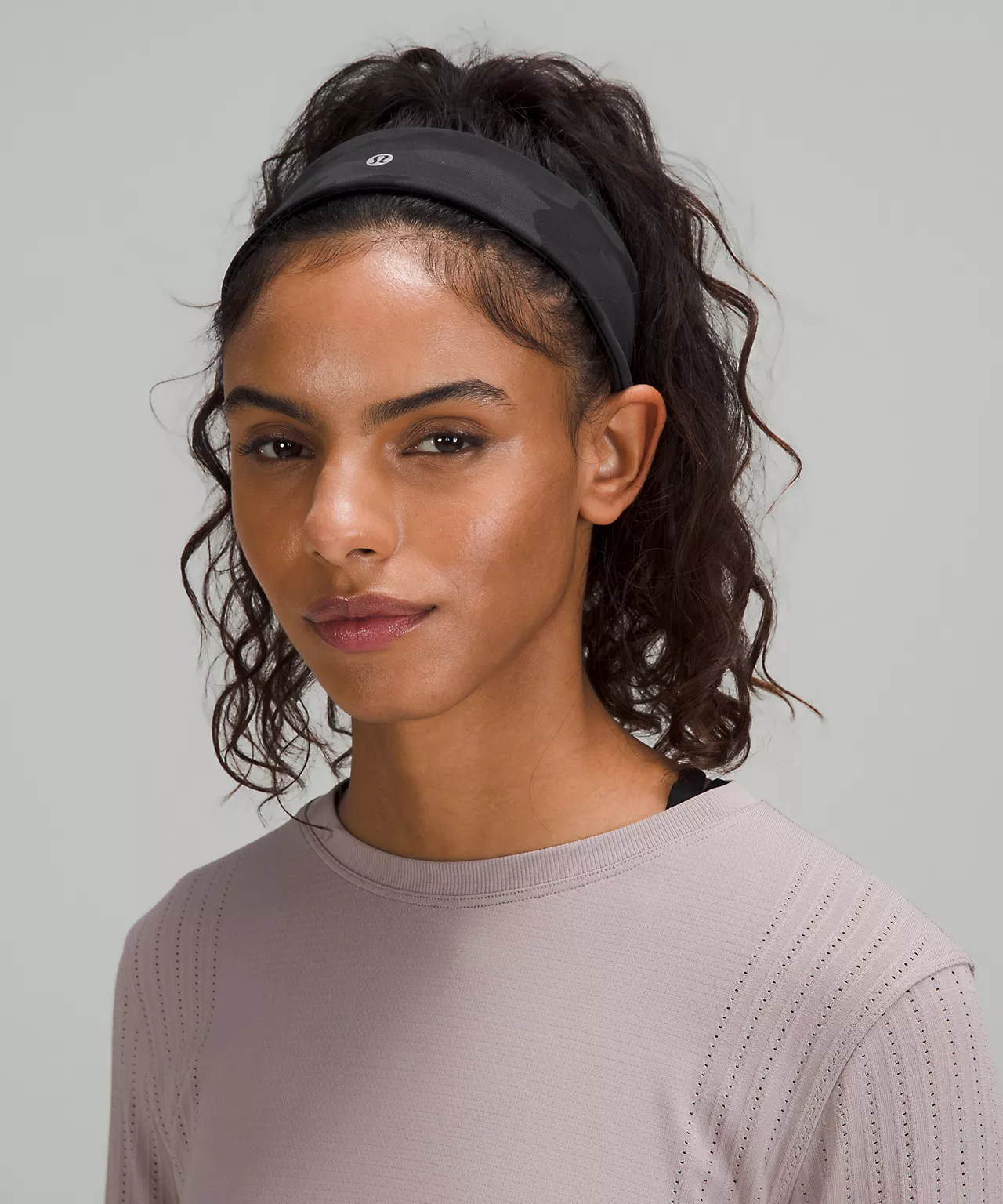 – Keeps hair under control
– Absorbs sweat
If you've got luscious, flowing locks that need to be tamed, you might find your hair getting in the way during yoga sessions.
A headband is a simple way of solving this problem, and Lululemon have created a superb garment for this exact need. Check it out on Amazon.
– Excellent grip technology
– Comfortable fit
Wearing the right socks is another important factor to consider during yoga practice.
These Pembrook yoga socks are built with grippers on the bottom, so you don't need to worry about losing balance on your mat.
Improve Your Experience With The Right Gear
Getting the right gear can have a significant impact on your experiences of yoga practice.
Wearing things that are lightweight, fit well, and encourage easy movement will benefit you both in the short term and the long term.
Hopefully, our guide to the best men's yoga clothes has not only answered the all-important question, 'What do men wear to yoga?', but also given you a few practical tips to check out.
For more guidance on the best yoga gear, check out our article on what to wear for yoga class, or if you're planning on attending some more intense hot yoga sessions, read our piece on what to wear for hot yoga.