Welcome to our guide on famous yogis!
Here we've compiled a list of 8 famous yogis and yoginis from past to present, who have had an important, and at times controversial, influence on the evolution of this ancient practice.
Some of these famous yogis are heralded for bringing yoga to the west, others for encouraging accessible yoga for disabled people. Some have pioneered body positivity movements in yoga, and others were at the forefront of advancing yoga for women.
However, contributions made by some of those on this list are far less than positive, and instead reveal darker sides to the history of yoga, that is just as important to reflect on. After all, awareness is the first step towards positive change.
8 Famous Yogis You Should Know
Without further ado, here's our pick of 8 famous yogis to know.
Kicking off our list of famous yogis is Paramahansa Yogananda.
Born under the name Mukunda Lal Ghosh, Paramahansa Yogananda is known as the Father of Yoga in the Western World.
He was an Indian Hindu monk, yogi, and guru, who advanced the principle of plain living and high thinking. He sought to demonstrate the unity between Eastern and Western religions and to promote a balance between Indian spirituality and Western material growth.
He spread this principle and other teachings of Kriya Yoga and meditation to millions throughout the world – particularly in America, where he lived for 32 years and played a defining role in the American Yoga Movement.
Decades after his death, Paramahansa continues to teach and inspire people through his organizations; the Self-Realization Fellowship (America) and Yogoda Satsanga Society (India).
Check out these 50 Paramahansa Yogananda Quotes!
#2: K. Pattabhi Jois (1915-2009)
Next on the list of famous yogis is K. Pattabhi Jois – credited as the father of Ashtanga Yoga, and the unique Mysore method that he utilized to teach.
Energetic and athletic, Ashtanga boasts many physical and psychological benefits and is one of the most popular yoga styles, enjoyed by millions of practitioners around the world.
However sadly, Ashtanga Yoga is just one of the ways that the Yoga world remembers Jois.
During the #MeToo movement, various allegations of Jois' sexual assault towards both male and female students emerged, kick-starting a much-needed discussion about the pervasive underbelly of sexual misconduct in the yoga world.
This discussion splayed to include other famous gurus and everyday yoga teachers, revealing a sad and impermissible trend of instructors exploiting the physical closeness and touch that are often part of yoga instruction.
On the 10th of July 2019, the grandson of Pattabhi Jois and lineage holder (paramaguru) of Ashtanga Yoga, Sharath Jois, issued an apology on his Instagram for the sexual assault of his grandfather. He wrote:
"Growing up I was very close to my grandparents. When I recall learning asana from my grandfather it brings me immense pain that I also witnessed him giving improper adjustments. I did not understand and felt helpless. I am sorry that it caused pain for any of his students. After all these years I still feel the pain from my grandfather's actions. We must have zero tolerance towards abuse, mishandling, or touching students inappropriately."

– Sharath Jois
While Jois' reputation has been irreparably damaged due to these unacceptable findings of sexual misconduct, the credibility of Ashtanga and the Mysore method itself has remained intact – with yoga studios and schools around the world promoting both.
Mahesh is among the most revered modern famous yogis.
Mahesh was the creator of the world-renowned Transcendental meditation – a silent, mantra-based meditation technique believed to foster states of relaxed awareness, stress relief, and access to higher states of consciousness.
Beginning in India, Mahesh devoted years of his life to spreading this valuable concept, first around India and later, the whole world.
During this time, he imparted his wisdom to over 40,000 teachers, visiting countless universities, schools, colleges, and other institutions to teach the world about the benefits and history of yoga and meditation.
This famous yogis' reputation was so renowned, that he even acted as a personal guru to artists including the legendary Beatles and Beach Boys (imaged above).
#4: Jivana Heyman
Jivana Heyman has a well-deserved spot on our list of famous yogis.
Founder of Accessible Yoga, an international non-profit organization dedicated to shifting the public perception of yoga, Jivana has devoted his practice to breaking down ableism in the yoga world – and he's doing an amazing job of it.
Jivana specializes in teaching yoga to people with disabilities, and each year through his organization, he offers countless conferences, training, and even a popular ambassador program.
These teach attendees how to notice and avoid the many ways that the practices and narratives of yoga can slip into unconscious ableism that makes it difficult to access for disabled people.
Jivana is also the author of Accessible Yoga: Poses and Practices for Every Body – an enlightening book on inclusive yoga philosophy and asanas.
#5: Geeta Iyengar (1944-2018)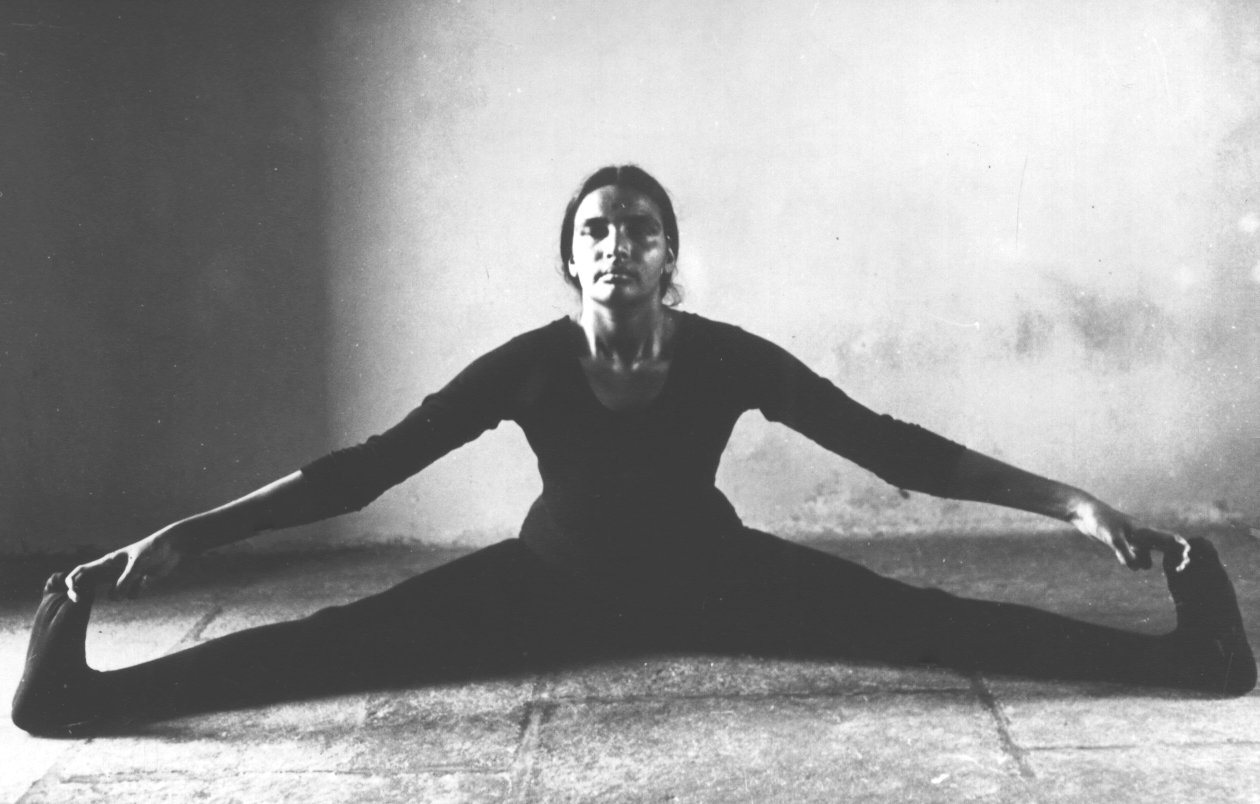 Fifth on our list of famous yogis is Geeta Iyengar – and if you're familiar with the world of yoga, Geeta's last name will probably ring a bell.
Geeta (also Geetaji) Iyengar is the eldest daughter of Yogacharya B. K. S. Iyengar – founder of the hugely successful Iyengar yoga style.
Geeta studied with her father from childhood, and began her teaching journey by substituting for him when he was away on international teaching tours. Soon after, she began to take on her own students, and was considered by many as the world's leading female yoga teacher.
Geeta worked hard to adapt and expand her father's method of yoga to various specific requirements of women.
Through this dedication, Geeta did amazing things to advance yoga for women. This included creating specific asanas, breathing techniques, and sequences to help women find balance during menstruation, pregnancy, postpartum, and menopause.
#6: Jessamyn Stanley
#7: Yulady Saluti
Next up on our list of famous yogis is Yulady Saluti.
Another powerful femme who has used social media to increase representation, Yulady's page offers an authentic and undisguised account of the physical and mental ways in which life can burden our bodies – and how practicing yoga, self-love, and awareness can make these challenges a little more manageable.
A survivor of breast cancer, living with an ileostomy bag, and undergoing repeated surgeries, Yulady has been vocal about her journey.
Seeing every scar, wrinkle, and white hair as part of the roadmap of her life, Yulady says these things remind us of where we have been and what we are capable of enduring.
Deeply spiritual and devoted, along with her husband Gerald Saluti, Yulady describes how her yoga practice has played an important part in the way she's dealt with and healed from these challenges.
For her, yoga is a reminder that 'you are stronger than you can imagine. You are more loved than you can feel'.
Last but far from least on our list of famous yogis is Tirumalai Krishnamacharya.
Recognized around the world as one of the most influential gurus of modern yoga, Krishnamacharya pioneered the development of postural yoga that forms the foundations of much of our contemporary practice – awarding him the title of "the father of modern yoga".
Through promoting the mindful combining of breath with movement in his teachings, Krishnamacharya is widely considered the founder of the vinyasa yoga style, which emphasizes such breathing techniques.
Underlying all of Krishnamacharya's teachings was the principle 'teach what is appropriate for an individual' – reminding us that yoga should not be organized according to a hierarchy of poses, but rather according to what suits the capabilities and needs of the particular practitioner.
Not just a talented yogi, Krishnamacharya was best known amongst his community as a prized healer, who successfully combined ayurvedic healing and yogic exercises to help those who came to him.
Krishnamacharya also left his mark on the yoga world through the students that he taught, which included many of yoga's most renowned and influential gurus such as Indra Devi, K. Pattabhi Jois, and B. K. S. Iyengar.
As well as this, Krishnamacharya was also a renowned scholar, writing four books on yoga as well as numerous essays and poems.
You Don't Have to Be Amongst Famous Yogis To Master Mindfulness . . .
We've come to the end of our famous yogis list – next up, time to learn some simple mindfulness techniques.