When the weather's getting warmer, yogis everywhere may find that their normal gear might start to become a little hot.
In warmer temperatures, the go-to bottoms for most men are light, practical yoga shorts.
We all have our personal preferences when it comes to the gear we like to work out in, and yoga's no different. But there are a few things you want to make sure you're across when purchasing men's yoga shorts.
That's why in this article, we'll be guiding you through everything you need to look out for when grabbing yourself a pair.
We'll be focusing on these key topics:
Why Get Specialized Yoga Shorts?
What To Look For In Men's Yoga Shorts
The 8 Best Men's Yoga Shorts In 2022
Okay, let's dive into it.
Why Get Specialized Yoga Shorts?
If you want to get the best out of your yoga practice, wearing the right gear is crucial.
You don't have to spend tons of money on specialist clothing, but it's important to note that your normal everyday clothes probably won't cut it.
Yoga requires your body to bend, stretch, and move in all sorts of ways, and if you're wearing clothing that's too baggy, tight, or uncomfortable, it can slip and slide around your body and end up getting in the way.
That's why yoga clothes are designed to adjust to contours, ensure comfort, and allow your body to breathe.
Purchasing yoga shorts that are built for the job will ensure that you achieve comfort, durability, and sustainability.
It might be a bit of an investment, but if you're a keen yogi, it's definitely worth it.
Let's expand on some of the key things you want to look out for when grabbing new yoga shorts.
What To Look For In Your Yoga Shorts
Men's yoga shorts can be designed for all sorts of needs and purposes, and ultimately, this choice depends on the individual.
Some people will want a baggier, more loose-fitting short that doesn't restrict their movement, while others will want something with a skin-tight feel and dynamic synthetic material.
For some yogis, the most important thing is sustainability and ethical fashion, whereas other people may have a tighter budget and are most concerned with getting something affordable.
Wherever you fit on that spectrum, there are a few things you'll want to keep in mind when you look into buying men's yoga shorts.
#1. Material
There are all sorts of material blends out there, so it's worth familiarizing yourself with the pros and cons of each one. Cotton is usually warmer, so synthetic materials might be best if you're worried about breathability. Mixtures of the two are also available.
#2. Thickness And Weight
You're going to want something lightweight during those summer yoga sessions. Choosing thinner rather than thicker shorts will help you breathe and get rid of moisture quickly.
#3. Pockets And Extra Bits
Some men's yoga shorts include a few extra pockets and accessories for practical uses. If you need some additional storage (if you're practicing outdoors, for instance), this might be handy. But remember, carrying loads of items can hinder your progress.
#4. Sustainability
This is an issue that concerns lots of people these days. Do your research into how ethically-made each item of clothing is, find out about where your shorts are produced, where the material comes from, and how workers are treated.
#5. Get The Right Fit
This one probably seems pretty obvious. Ensure that the shorts you buy are a good fit for you. Try on a few different pairs and work out the kind of item you want to buy. Do you want it looser or tighter? Which materials feel best? Are you worried about getting sweaty?
Take all these things into consideration, and you'll hopefully end up with a pair of men's yoga shorts that are perfect for you.
The Best Men's Yoga Shorts In 2022
Now it's time to explore some of the best men's yoga shorts out there in 2022.
This year, there are some amazing products on the market that will allow you to take your yoga practice to the next level in style.
Let's work our way through some of the most popular yoga shorts for men.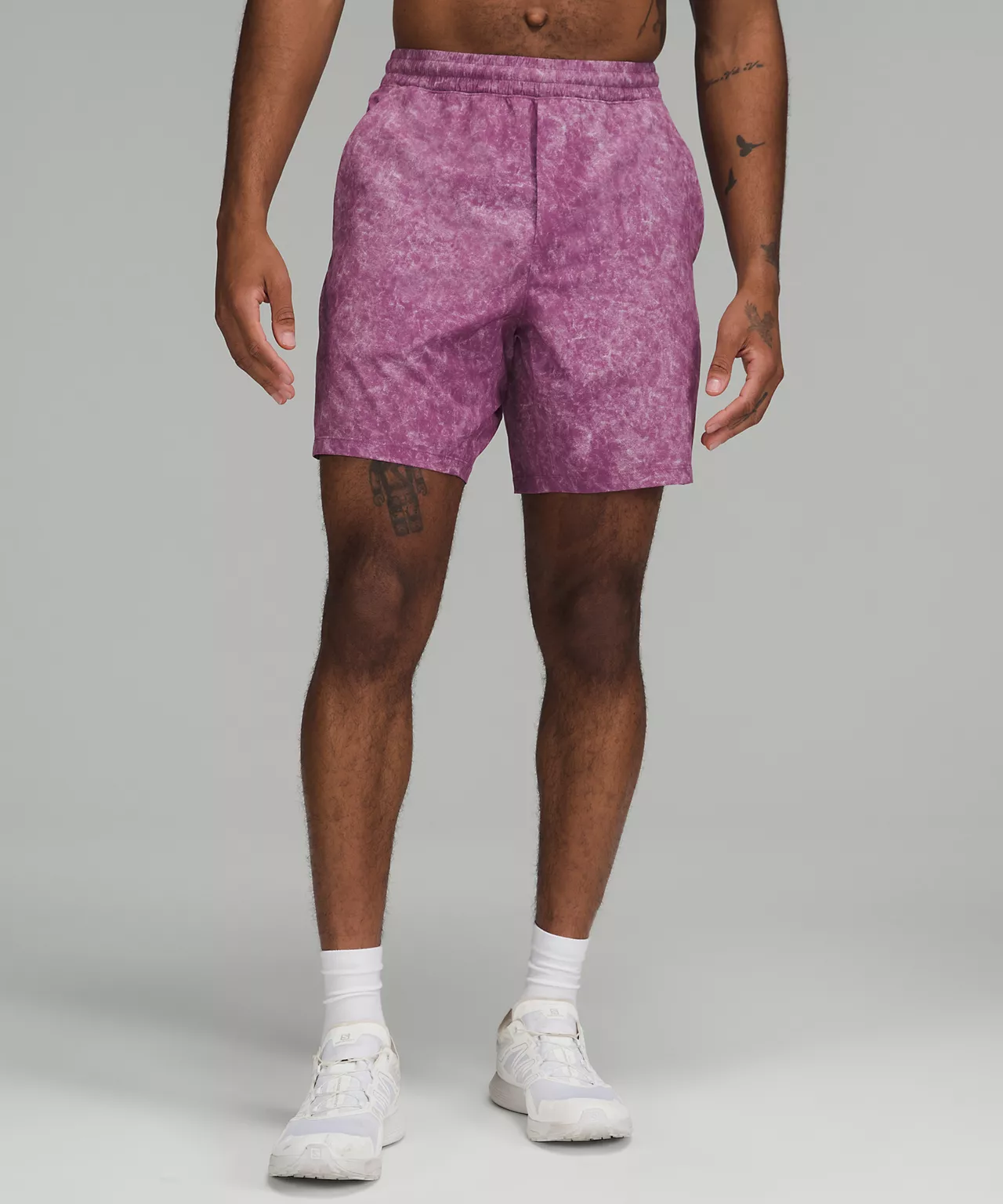 – Lightweight, stretchy polyester blend
– Slightly expensive
We're starting off with a pricey pair of shorts, but when it comes to manufacturing quality yoga clothes, there's arguably no one better than Lululemon. Here, you're paying for quality.
The Pace Breaker shorts are made with a lightweight, stretchy, sweat-wicking Swift fabric. At the back, there's a mesh fabric vent that's designed to keep you cool, while inside, there's a built-in pouch to keep your little fellas supported.
– Flexible material
– Super comfy
Made of a nylon and spandex blend, these Alo Yoga shorts are built to cope with all sorts of yoga postures, whether you're practicing core activating poses or poses for flexibility.
Their drawstring closure and stretchy, flexible material allow for added comfort. For around $50, they're at the mid-upper end of the spectrum in terms of price, but they're still decent value.
Check out the Warrior Compression shorts here.
– Great budget option
– Wide range of colors and sizes
Money is pretty tight right now for most people, so if you don't have much wriggle-room budget-wise, don't worry about it.
These Amazon Essentials shorts are super affordable and given their low price, they're pretty high-performing, too. Yes, they're a little loose and transparent, but the material is lightweight and you can pick from a wide range of colors.
If you're after a budget option, these are a really safe bet.
– Higher price point
– Extra pockets and practical features
These workout shorts are a little looser, but they won't get in your way when you're practicing stretches and seeking all the benefits of yoga.
They've got 2 front side pockets and a hidden zippered security pocket, which means they're ideal for anyone who likes heading out to a local park or a group yoga class to practice.
On the pricier side, these men's yoga shorts are best suited to those who are prepared to invest a good bit of money to guarantee quality.
– Quality, affordable option
– Specialist yoga brand
Manduka shorts are built for yoga. They're super lightweight and stretchy, a little baggier than some other options but guaranteed to feel light and comfy even when you're pushing yourself to the max.
Prices on Amazon start at around $20, meaning these are an excellent budget option.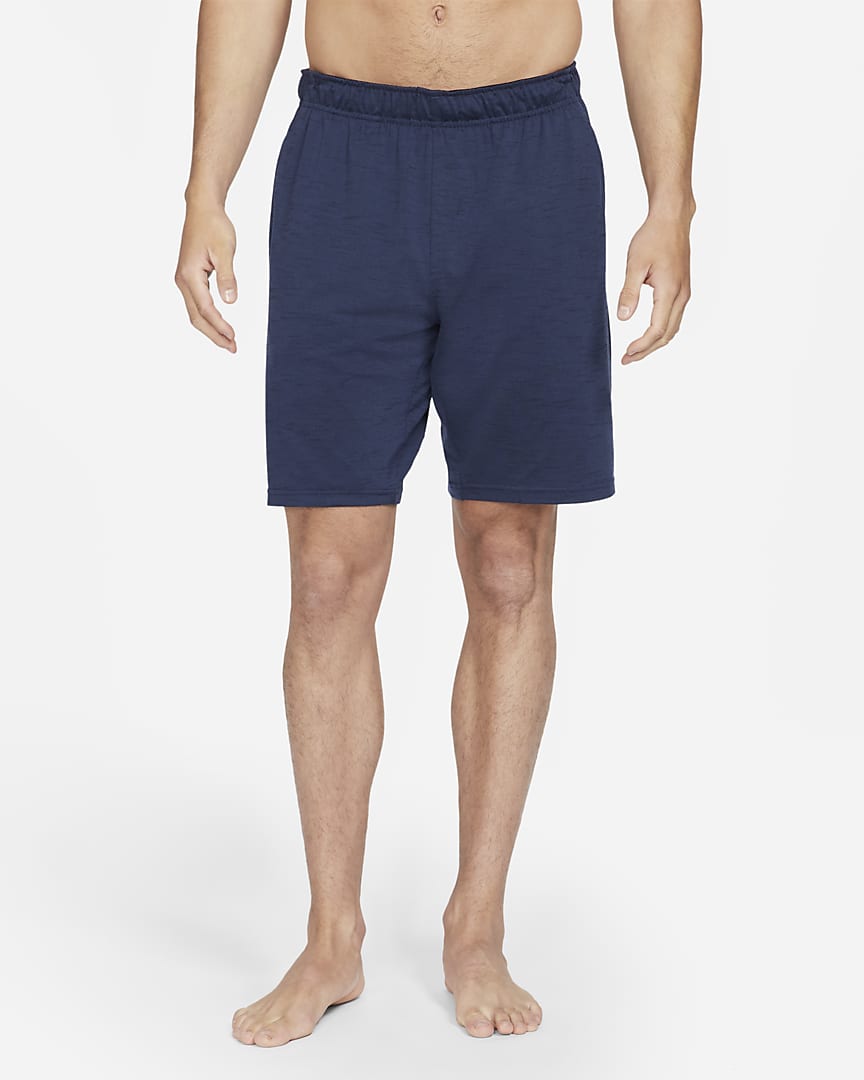 – Moisture-wicking
– Very comfortable
Lightweight and breathable, the Nike Dri-Fit yoga shorts are designed to help you stay cool, calm, and stable during particularly hot yoga sessions.
With moisture-wicking material, an adjustable drawstring, and a slightly longer style that sits mid-thigh, this is a short that ensures comfort for all.
What's more, these shorts are crafted with at least 75% recycled polyester fibers, so they're more eco-friendly than quite a lot of other options.
– Extra-long
– Thicker material
With an inner drawstring and skin-tight material that doesn't bunch up, these shorts allow free movement while offering plenty of support at the same time and ensuring you don't need to constantly adjust yourself.
If you're in need of strong compression, the thick material of the YOGA CROW Swerve shorts is ideal. They're also a little longer if that's the kind of thing you're after.
– Reliable sports brand
– Stylish
These yoga-specialized Nike shorts are built to withstand the strains and stretches of any typical yoga session.
The Flex Shorts are comfy, stylish, and durable. With side pockets and a hidden zip pocket, they're also super practical.
Take Control Of Your Yoga Practice In 2022
It's always the perfect time to shift your yoga practice up a gear. And one of the best ways to do that is to make sure you're wearing clothing that's designed to aid your performance.
But wearing the right yoga clothes won't just make your sessions easier — it will also make you feel more confident in yourself overall.
Add to that an improved ability to hold poses, maintain balance, and build core strength, and you'll see why grabbing the right gear is such a good idea.
And remember: these clothes aren't just useful for yoga, they're also great for practices like mindful movement and body scanning meditation.
There's a whole world of transformative exercises out there designed to tap into the power of breathwork, contemplation, and mindful movement.
Continue your journey towards a more peaceful life by checking out our guide to the practice of everyday mindfulness.